Recipes
5 Fun Facts About Ramen Noodles – Food Wine and Poopy Diapers
My family and I have just been battling the worst spring flu bug I have ever experienced in my life. We are on the mend, but feeling so bad has left me with no appetite, just wanting comfort food when I eat. And one of my favorite comfort foods is Ramen noodles! 🙂
I will admit it, I LOVE Ramen! There's a reason why people love it, and it's not just because it's cheap. It's because it's cheap AND good!
Here are 5 fun facts about Ramen noodles.
1. If you ate Ramen noodles for all three meals a day every day of the year, you would only spend $219 the whole year on groceries! That's what many people spend in 1 week! However, you'd probably also be dead. Because…
2. HOLY SODIUM! One big bowl of ramen noodles contains nearly your entire daily recommended amount of sodium! Hello, heart attack! See ya soon, stroke!
3. Instant Ramen noodles were developed in 1958 by Momofuko Ando, taking the globe by storm, and making this Asian staple accessible to everyone. (Source: Wikipedia)
4. Ramen noodles are such a huge part of Asian culture, that the Ramen Museum opened in Yokohama, Japan in 1994. (Source: Wikipedia)
5. Ramen is Vegan! That's right! No eggs, no animal products. So it can be a part of your vegan diet!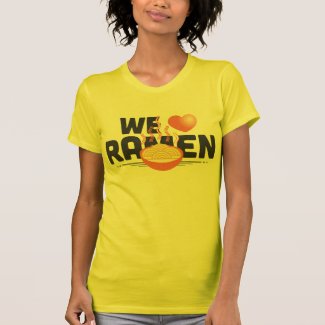 we love ramen noodles! shirt
by
msvb1te
View more Ramen T-Shirts at
zazzle.com
Has this made you hungry for Ramen? Then be sure to check out my "fancy" Ramen Recipe, HERE! 🙂


This post contains affiliate links.